The Mammoth Lakes Foundation issued the following press release:
Despite a day that started off cloudy and progressed to a full-on rainstorm with thunder
and lightning, 144 players raised $35,000 gross in support of higher education and cultural enrichment at the soldout
12th Annual Mammoth Lakes Foundation Golf Classic last Sunday, September 11, 2011 at Sierra Star Golf
Course.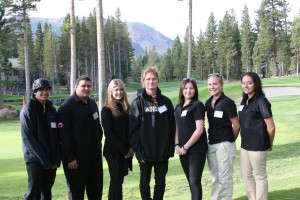 The tournament was called mid-way and became a best-of-9 hole competition, but the real winners were
Mammoth Lakes Foundation Scholarship students and South Gateway Student Apartment students, some of
whom were among the volunteers supporting the event. Highlights of the scramble tournament included an iPad2
raffle, Super Ticket raffle, silent auction, awards party, and closest to the pin prize on all par threes.
"A sincere thank you to Dave Schacht and the staff of Sierra Star Golf Course, as well as Matt Mednick of Hyde
Lounge where the after-tournament party retired to dry out," said Mammoth Lakes Foundation Executive Director
Maya Weinhart. "My staff and I also extend a hearty thank you to our sponsors, players, and volunteers for a job
well done. This is the first time we've been rained out on the history of the tournament and we still had a blast!
We are pleased we were able to raise the same amount as last year for higher education and the arts, despite
cutting the tournament short, and definitely look forward to next year's event."
After retiring to Hyde Lounge, players, volunteers and staff shared refreshments, participated in the Silent
Auction, and learned the names of the winners of the tournament, the raffles, and the Par 3 contests.
Thanks to the scholarship student team of Maria "Pita" Vasquez and Plake Parker for winning the prize for most-tickets-sold
at a par 3 for their work at Hole 14. Kudos also go to the two die-hard foursomes of Dennis Agee, Jimmy Huh,
Doug Hanna, and Dion Agee, and Ben Wells, Matt Kendo, Chris Wylie, and Guy Morrow, both of whom stuck it out
and completed the entire 18-hole course despite the downpour.
Congratulations winners
Tournament low score (and repeat winners from last year): Guy Bien, Ian Birrell, Craig Copeland, and Christian
Newman representing 80/50
Tournament high score: Pat Koepsell, Pat Sherill, Vivian Kim, and Heidi Vetter
iPad2 raffle: Charlie Comfort
Super Ticket raffle – seven nights at a resort in Indio, CA: Pat and Ron Caird
Mammoth Lakes Foundation
100 College Parkway, P.O. Box 1815
Mammoth Lakes, CA 93546
P: (760) 934-3781 F: (760) 934-6019
www.MammothLakesFoundation.org
Closest to the pin on Par 3s: Terry Loy, Jerry Bourelle, Pat Caird, and Bob Hulburt(also repeating from last year)
Thank you sponsors
Title Sponsor: Mr. Bob Hart (in memoriam)
Breakfast Sponsor: Southern California Edison
Beverage Sponsor: The Westin Monache Resort
Hole Sponsors: Rogitz Patents, Neil Sherman Industrial Metal Supply, Cecil Spearman and Spearman Clubs Inc.
Hole-in-one Sponsors: KMMT/KRHV, and Eastern Sierra Community Bank
Putting Contest Sponsors: Ron & Shirley Heck
In-kind and Tee Sponsors: A&A Garage, ACI/San Luis Jet Center, Al Norris, Aliso Creek Inn & Golf Course,
Alpine Paint, Base Camp Café, Best Western – Mammoth, Bishop Country Club, Black Gold Asphalt, Bluebird
Imaging, Boucher's Home Care, Chuck Villar Construction, Cornucopia Wine Event, CPR Guide Service – Don Meier,
Crowley Fish Camp, Crowley Lake General Store, D & J Roofing Inc., Daniel Mitchell,
David Baumwohl Law Offices, Dennis and Dottie Hartman, Diversified Mortgage, Doug and Rosie Butler , DB's Fish
On Eastern Sierra Land Trust, Eric Olsen's Farmer's Insurance, Evan and Kathie Russell, Flinn Family, Footloose
Sports, George Wever , Hair & Now, Hilton Creek Naturals, In Line Chiropractic, Indian Canyon Golf Course, Jack
Smith, Janice Brown, Kendra & Jeff Walker, Kevin Biggins , Las Vegas Hilton, Law offices of Michael Bornfeld,
Loving Memory Cary Shibley , Mammoth Hospital, Mammoth Lakes Foundation, Mammoth Liquor, Mammoth
Luxury Outlets, Mammoth Mountain Vacations, Mammoth Realty Group – Trish Dunlap, Heidi Helbig, Pat Koepell ,
Mammoth Reservation Bureau, Mammoth RV Park, Mammoth Unified School District, Mary Lynn & Lily Walker,
Mogul Restaurant, Mountain Living Interiors & Design, Napa of Mammoth, Neil Sherman, Oram and Kaylor, Paul
and Kathleen Rudder, Pete Veris / Titleist, Pita Pit, Robert Beach Insurance, Robin Stater , Rocky Mountain
Chocolate Factory, Shibley Family, Shogun Restaurant, Sierra Jewelers, Sierra Paint and Drywall, Sierra Star Golf
Course, Snowcreek Golf Course, State Farm Insurance – Linda Wright, Sunrise Rotary, Susan S. Walker, Taz Electric,
Thai'd UP!, Todd Porter / Lamar Advertising, Valley Florist, VP Construction, Von's Supermarket,
Wave Rave, Whiskey Creek, Westin Resort & Spa – Whistler, Yamatani Restaurant
Started in 2000, the Mammoth Lakes Foundation Golf Classic has been an integral way for the Foundation and its
supporters to raise money for local student scholarships, the operation of South Gateway Student Apartments,
and Mammoth Lakes Repertory Theatre, and planning for a proposed Mammoth Arts and Cultural Center.
Photo credit: Mammoth Lakes Foundation
For additional photos visit www.mammothlakesfoundation.org
The Mammoth Lakes Foundation is dedicated to supporting higher education and cultural enrichment in the Eastern Sierra.