Local officials say it will change life in the Eastern Sierra with new chances of economic development, communication and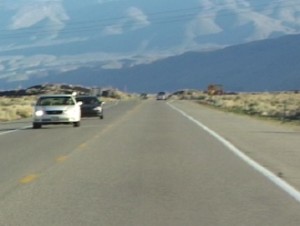 high tech activities. The project Digital 395 has received $81.1 million in federal stimulus funds, according to the US Department of Commerce. The funds will go to a non-profit corporation called California Broadband Cooperative, Inc.
This money, added to the California Public Utilities Commission grant of $19 million and funds from Praxis Associates will pay to build a 583-mile fiber optic line from Barstow to Carson City. According to the Department of Commerce, this line will directly connect more than 237 hospitals, schools, libraries, military bases, local governments, and others to a high-speed broadband network. Officials say it will create hundreds of local jobs.
Robert Volker, CEO of California Broadband, is quoted as saying that community support for the project was a "region-wide effort, sprearheaded by local county officials and elected representatives of the region, including county supervisors, state legislators and members of Congress."
California Broadband Cooperative, Inc. is described as a not-for-profit California Consumer Cooperative Corporation formed for the purposes of owning and operating the Digital 395 network. Officials of CBC say that they will provide high-speed broadband services to its members on a wholesale, open-access basis. According to a press release, the cooperative will be under the direction of a Board of Directors representing key institutions and constituents in the Eastern Sierra.
Michael Ort of Praxis Associates had recently appeared at a meeting of the Eastern Sierra Council of Governments. His company is described as a fiber-optic network development firm. Praxis is a partner in this project which Ort says should be complete in two to three years.