Inyo County issued the following press release:
The Inyo County Board of Supervisors is scheduled to consider entering into an exclusive negotiation agreement with Joseph Enterprises to build and lease a consolidated County office building near Wye Road and Highway 6 in Bishop.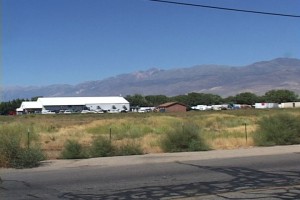 The County issued a Request For Proposals (RFP) for Consolidated County Office Space in the Bishop area in early 2009 to hundreds of potential developers and received two proposals. Since that time, staff has been negotiating with both respondents to determine which proposal might best meet the County's needs. This process is culminating Tuesday with staff recommending that the Board consider entering into exclusive negotiations with Joseph Enterprises to explore the feasibility of the project further.
"Entering into an exclusive negotiation agreement is the next step in the process outlined in the RFP," said Inyo County Administrative Officer Kevin Carunchio.
Carunchio stressed that the exclusive negotiating agreement is non-binding on the County. He said it does require the preparation of a non-binding Term Sheet, followed by non-binding Concept Plans – showing what County's office space needs are and where services will be housed – that each must be approved by the Board of Supervisors in open session. If the Board of Supervisors approves of both the (non-binding) Term Sheet and Concept Plans, the last step will be to draft final documents that will be binding on the County if approved by the Board.
"We've still got a very long way to go," Carunchio said. "The only decision that's being made is who to negotiate further with. If approved, the exclusive negotiation agreement will create a framework to see if this project will ultimately make sense for the County and the developer."
Consideration of the exclusive negotiation agreement is agendized for action by the Board of Supervisors at 10 a.m. on Tuesday, September 6th, in the Board of Supervisors Chambers in Independence, California