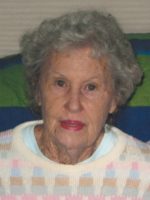 Carolyn Zane Liberato April 23, 1926 – June 21, 2022
Surrounded by her daughters, our beloved Mom, Grandma (Mema), Great-Grandma passed away
peacefully on Tuesday June 21, 2022 in her home.
She will be forever cherished and remembered by her daughters Jan Power, Cathy Liberato, and
Mary and Dan Mead. Her granddaughters Kristin Reese, Jessica Kesner, Meryl Bernasconi,
Dayna Dale; great-grandchildren Jon and Tye Kesner, Aubrey Rose and Leo Bernasconi, and
Mason Dale. She will be missed by nieces Melissa, Diana, Patricia, and Victoria. Nephews
Richard and Robert and many family friends.
Preceded in death by her husband Walter Nicholas Liberato; beloved sister Lois Kuss, her
parents Herbert Raymond Hinote and Mildred Mae Hinote. Mom has lived in Bishop since 1981
and was a member of Northern Inyo Hospital Auxiliary.
A funeral Mass will be held at 11:00 am Friday July 8, 2022 at Our Lady of Perpetual Help
Church 849 Home St. Bishop, CA. followed by internment at East Line Street Cemetery.
Our family would like to thank her caregivers Carol, Maria, Yenia, and Olga for their care and
kindness since February 2022.