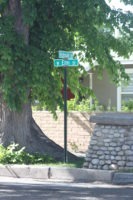 The tree-lined intersection of Hobson and Elm streets in Bishop has that comfortable, Americana look to it—older, well-kept, neatly landscaped homes with a quirky 35-foot offset as Elm crosses Hobson.
The only problem, as presented at Monday's Bishop City Council meeting: kid's use the route to walk to all three Bishop schools where Elm dead-ends at Home Street.
According to the staff report, "traffic traveling north and south on Hobson Street must encroach on to West Elm into cross traffic to navigate a left-hand turn…. This very same hazard exists for pedestrians trying to cross the street. This area is heavily used by children walking to school to add to the issue." The solution: a 4-way stop.
Like all things governmental, there are steps to be taken before the signs go up. City Manager
Deston Dishion explained a traffic engineer has to assess the situation and determine the
intersection justifies a 4-way stop. Bishop Police Chief Richard Standridge took a look and
agreed with the stop signs. But, Standridge isn't a traffic engineer and Bishop doesn't have one.
Dishion then went to Inyo Public Works Director Mike Ferrante. Ferrante agreed and supplied
the appropriate letter.
The approximately $1,000 cost will come out of Bishop's street maintenance budget and,
Dishion said, the signs will be up by the end of next week.