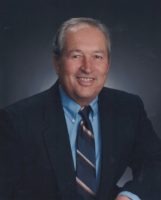 Paul Bradley Rowan, a longtime resident of Crowley Lake, CA, passed away on April 16, 2022, at the ageof 80, surrounded by his family who paraded him into Heaven with prayer and bidding him "well done good and faithful servant."
Paul was born on August 28, 1941 in Uniontown, PA. He and the love of his live, Joyce, raised their four boys in Crowley Lake, which was home from 1968 until his passing. His passions were Jesus, family and
people – He loved all with genuine care.
He founded Paul's Electric in Mammoth Lakes and ran the company until his son, Troy Rowan took over in 2001.
Paul is survived by his wife Joyce Rowan (Sybert); Sons Paul Rowan (wife Tamala), Troy Rowan (wife Karen) and Mark Rowan (wife Monique); Grandchildren Perris Rowan (wife Nicole), Sonora Rowan, Rebekah Noriega (husband Edwin), Bradley Rowan, Bailey Rowan, Hunter Rowan and Beau Rowan; Great grandchildren Roarik, Rosella, Radshak, Revington, Troy and a pending player to be named later.
Paul is predeceased by his Parents, Clark and Eunice, Sisters Jean and Louise, Brothers Frank and Robert and Son Perry Allen Rowan.
Services are scheduled for May 7, 2022 at 3:00PM in Mammoth Lakes.