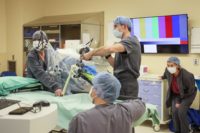 Good news for bad knees: NIHD adds robot-assisted total knee surgery
This past week, Northern Inyo Hospital's orthopedic surgery team, led by Dr. Richard Meredick,
conducted the facility's first two total knee replacements using advanced robotic technology.
With this month's arrival of the Stryker Mako SmartRobotics system, Northern Inyo Healthcare
District becomes the first healthcare facility in the Eastern Sierra to offer robot-assisted total
knee surgery. For patients, this advancement can mean less post-surgery pain, better soft tissue
protection in comparison to manual techniques, and in some cases, better bone preservation.
The Mako SmartRobotics system consists of three unique components – 3D CT-based planning, AccuStop haptic technology, and insightful data analytics. The 3D CT planning allows Dr. Meredick to create a personalized plan based on each patient's unique anatomy, all before entering the operating room. Once surgery begins, Dr. Meredick validates that plan and makes any necessary adjustments while guiding the robotic arm to execute the plan.
While the Mako itself may be new to NIHD, healthcare facilities have used the system for more
than 20 years. Dr. Meredick carefully watch the advancement of the system over many years,
developing a comfort with the technology before approaching NIHD leaders about adding Mako to the hospital's services. The NIHD Board of Directors approved this addition during its March 16 regular monthly meeting.
From there, NIH surgery team training with Stryker's Mako experts began. In close to a half-dozen training sessions, the team was led through the intricacies and necessary care of the system. Dr. Meredick underwent several intensive training sessions with other Mako surgeons.
"The District is incredibly proud of the work put forth by our orthopedic, diagnostic imaging, and surgery teams to ensure continued quality care for our total knee replacement patients," said Kelli Davis, NIHD Chief Executive Officer. "This highly advanced robotic technology is a great addition to the orthopedic services NIHD offers."
The Mako is the second robot-assisted system used within NIH's operating room. The first system added was the da Vinci Surgical system in 2015.
About Northern Inyo Healthcare District: Founded in 1946, Northern Inyo Healthcare District features a 25-bed critical access hospital, a 24-hour emergency department, a primary care rural health clinic, a diagnostic imaging center, and clinics specializing in women's health, orthopedics, internal medicine, pediatrics and allergies, general surgery, colorectal surgery, breast cancer surgery and urology. Continually striving to improve the health outcomes of those who rely on its services, Northern Inyo Healthcare District aims to improve our communities one life at a time. One team, one goal, your health.