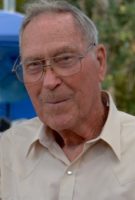 Richard Holland Nichols, passed away quietly in his home on Tuesday, April 9, 2022, at the age of 91. Born in Tishomingo, OK, he grew up and raised his children in El Cajon, CA, moved to Bishop with his wife, Carol (Ellis) Nichols and was a longtime resident. He and Carol also lived in Cedar City, UT, and Anchorage AK, where they had the adventure of their lifetimes.
A carpenter by trade, Holland was an excellent craftsman. Everywhere he went and everything he found, he left in better condition. He rebuilt several vintage vehicles, which he never kept. He once said it wasn't about the having, but the building.
Holland was fond of children and animals and was always willing to let his kids or grandkids help on a project, though the job he gave you was almost always sanding. He loved nature and wild places and earned his pilot license while in Alaska. In his later years he spent a lot of time outdoors watching the birds and the clouds go by.
He is survived by his children, James Nichols, Robert Nichols, Patti Angelique, Marlene Valdes, and his stepchildren (though he never made the distinction and loved them as his own) Barbara Gurley and Jerri Selway. He also leaves his sister-in law and friend Patricia Mathieu, many grandchildren, great-grandchildren, nieces and nephews who all looked up to him.
Graveside services will be held Saturday, April 23rd at 11 p.m. at the East Line Street Cemetery in Bishop, CA.
A reception following the service will be held at 12:00pm in the Banquet Room of the Bishop Country Club, 1325 US Hwy 395, Bishop.
A visitation has also been arranged for those wishing to say a private goodbye on Friday, April 22nd, 2022 from 4:00 to 5:00pm at Brune Mortuary, 325 W Elm Street, Bishop