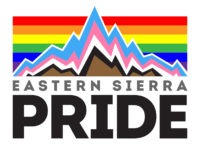 Eastern Sierra Pride is a newly formed nonprofit organized to serve the Eastern Sierra LGBTQIA+ community. Formed in October 2021, the organization is composed of LGBTQIA+ people and allies working together to ensure the Eastern Sierra is a safe, healthy, and welcoming place for everyone in the LGBTQIA+ community, and their family and friends.
Eastern Sierra Pride will immediately be offering programs and events, from local meet ups to Pride month celebrations; and resources, from job listings to dogsitters; with much more to come.
Local community meetups will be held every first and third Monday at Mountain Rambler
Brewery, from 6.00pm-9.00pm, beginning Monday, April 18th (all ages welcome). As one of its
first public efforts, the organization is spearheading a first-of-its-kind Eastern Sierra Pride Festival for the Eastern Sierra area, to be held at the Tri-County Fairgrounds and other venues on June 4th and 5th.
Local resources include trusted healthcare providers, job listings and professional development, and support hotlines.  "I am so thankful to be working with such an incredible group of people that are working tirelessly to bring this much-needed organization to the Eastern Sierra," said Deena Davenport Conway, President, Eastern Sierra Pride.
There are many volunteer opportunities to help Eastern Sierra Pride advance its goals for
equity, safety, services, and celebration. Sponsorship and donations are additional ways to
support the organization.
For more information on Eastern Sierra Pride, and its events, programs, and resources, visit
https://www.easternsierrapride.org and follow @easternsierrapride on social media.
About Eastern Sierra Pride
Eastern Sierra Pride's mission is to cultivate an Eastern Sierra where LGBTQIA+ people are
celebrated, embraced, and supported. Eastern Sierra Pride will work to ensure that our
LGBTQIA+ community is treated with dignity and respect, and has equal access to employment, housing, and all services needed to live a safe, healthy, and meaningful life in all our local settings, including business, cultural, educational, faith-based, recreational, and other.