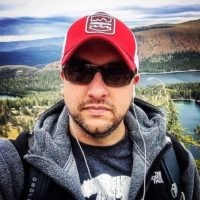 Robert Michael Covington born May 29 th 1984 in Bishop CA. He passed away in an accident on Friday March 4 th 2022 at the age of 37. He was a resident of Fernley Nevada and is survived by his mother Jennifer Covington of Round Mountain NV, his Father Rob Covington (Lacy) of Ely NV. His Uncles and Aunts, Russell & Balery Covington, Terri & Ed Merchant of Bishop CA as well as his cousin Sierra Merchant, also of Bishop CA.
During his life, Robert "Robby" to his family, served in the U.S. Navy, was a member of the Bishop CA Fire Department and most recently a heavy equipment operator. He loved telling corny dad jokes and was loved by so many more than listed here.
He will be laid to rest on Friday April 8 th in Bishop CA at the East Line Street Cemetery at 2pm. The family has asked in lieu of flowers that you make a donation in Rob's name to the Wounded Warrior Project or your local VFW.