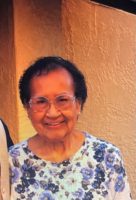 Harriet Ann Harrison passed away peacefully in her home on March 9, 2022.
Harriet was born on July 5, 1936 in Stewart, NV, but she spent her younger years living in Independence and Big Pine, CA. Harriet eventually settled down in Bishop, CA after she married Samuel Delmar Harrison. Together they had four children and Harriet had one child from a previous marriage.
Harriet was most known for being "Mrs. Harrison" or "Teacher Harriet" since she spent most of her years working in preschools in the Owens Valley. Harriet also dedicated her time being a foster parent for 20 or so years after the death of her husband Sam in 1988. Harriet eventually retired from teaching and shortly began working for Great Steps Ahead as a Child Interventionist working with children under the age of three who had a developmental delay.
Harriet loved children, especially her children, her many nieces, nephews, grandchildren, great-grandchildren, and two great-great grandchildren.
In her spare time, Harriet spent hours working on crafting projects, making cards with her many stamps, creating stain glass art, going to the local thrift shops, and weaving baskets at the annual Basket Weavers Association gatherings.
Harriet is preceded in death by her parents, Hazel Smith and Arthur Richards, her brothers Eldred Richards, Merton Richards, Carl Richards, and Don Richards, and her daughter Sandra Harrison.
She is survived by her sister Marion Richards, her children Tab Andrade, Glenn Harrison, Arnold Harrison, Karen Harrison, and many nieces, nephews, grandchildren, great grandchildren and great-great grandchildren
Funeral services will be held Saturday, March 19th at 12pm at Brune Mortuary in Bishop, CA. Burial will follow at the Pioneer Cemetery on West Line Street. There will also be a reception with food at the First Methodist Church.