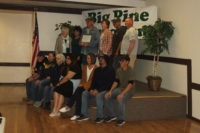 This year's Big Pine Civic Club Citizen of the Year is Dave Calloway, described as the solid rock of the community. The announcement was made Monday in the packed Civic Center along with
the organization's annual carrot cake contest.
The plaque, presented to Calloway by Sandy Lund, club president, says it all: "David Calloway
has rendered his service to the community of Big Pine and its residents with his work with the
Big Pine Fire Department and Big Pine School cleaning fire hazard lots "just because" and is
always available to help the Big Pine citizens. David began his volunteer work for the volunteer
fire department 35 years ago, ag age 17, and he is now the Assistant Chief and the 24/7 EMT,
always showing respect, kindness, compassion and professional dignity to his patients.
David's service to the community is exemplified by his work at the Big Pine School, a Johnny of all Trades and always accessible to support the students, staff and the needs of the Warriors.
David does not have the word "no" in his vocabulary and is available to help the citizens of Big
Pine. He is a lifelong resident of Big Pine, always showing the love and dedication he has for the
community and his family. He is a silent rock, never asking for recognition."
PHOTO CAPTION:
Dave Calloway, top row center, with his fellow Big Pine Fire Department team members.