Bishop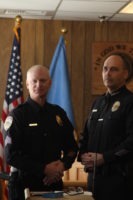 Police Department's David Scobie is now Sergeant Scobie following a promotion ceremony held at the City's council chambers last Wednesday in front of a crowd of family, friends and both City and Inyo County law enforcement staff.
Bishop PD Chief Richard Standridge went through Scobie's background: he's been a police officer since 2004, attended Riverside Sheriff's Department Police Academy, graduating at the top of his class—a detail his father pointed out.
He joined the Mono County Sheriff's Department in 2013, moved to Bishop in 2014 and joined Bishop's department in 2019.
Last year, Scobie put together a COVID-version of Shop with a Cop, helping area children purchase presents for their family and friends.