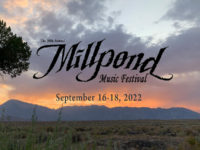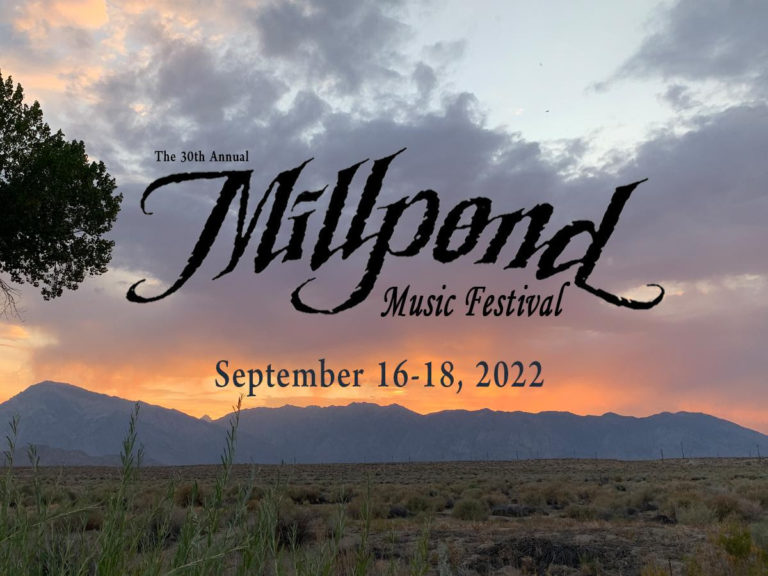 Dear Millpond Friends,
We can't wait to celebrate the 30th annual Millpond Music Festival with you! The official festival dates are September 16-18, 2022. We're planning another great weekend of music, art, and fun in the Eastern Sierra! Our staff is just starting the task of putting together a stellar line-up, and we'll be announcing artists as they are confirmed. Stay tuned here on our email list or on our 
WEBSITE
, 
FACEBOOK
, and 
INSTAGRAM
 pages.
Tickets go on sale in less than a month! Friday, April 1st is the first day of ticket sales. Friendly ICA staff will be in the office from 9:00 am until 5:00 pm to take your ticket and camping orders.
You may place your orders by phone, by mail, or by fax:
(760)873-8014 (phone)
150 Willow St. Bishop, CA 93514
(760)873-5518 (fax)
We will send an announcement when online ticket sales are available.
All current California and Inyo County Department of Public Health guidelines must be followed.
Guidelines can be found here. Please be prepared to follow any new mask requirements and/or social distancing measures if these guidelines change. If you are not prepared to follow these guidelines, please do not buy a ticket as there are no refunds. We will keep you updated to the best of our ability if things potentially change before the festival.
First Day of Ticket Sales – Camping Info:
Campers who stayed in the Brown's Millpond Campground will be able to reserve the same spot they had in 2021 ONLY if they call in and buy tickets and camping on the first day of sales: Friday, April 1st.
REMINDER: Camping in Brown's is a minimum stay of three nights–Friday, Saturday, and Sunday nights. Non-hookup spaces will be $90, hookups will be $105 for three nights. 
If you are interested in reserving additonal nights in the Brown's Campground, you may call them at 760-873-5342 after April 1st. We recommend you wait until you know your campsite to make those reservations.  Any potential Brown's Campground spots not secured on the first day of sales will be available on a first come / first serve basis.
Park camping – Please read carefully – Other RV/in vehicle camping options include the tennis courts (under 24′), sage flat, shoreline, and overflow. Prices for these spots range from $55-$60 and are for Friday and Saturday nights only. Additional Thursday or Sunday night camping is available but not pre-sold. These tags are sold onsite only beginning Thursday afternoon. Cost is $20 per night.  In recent years, the Tennis Courts camping area has been selling out on the first or second day of ticket sales. If you are hoping to stay at the Tennis Courts, we encourage you to call on FRIDAY, APRIL 1st.
Tent camping is available in the areas called pondside or forest. Price for tent camping is $45 and also for Friday and Saturday nights only. As with other park camping, Thursday and Sunday night camping is available but not pre-sold and available beginning Thursday afternoon. For families who would like an extra tent for children, a kid's tent tag will be available for $25 with the purchase of a student ticket, kid's tent tags may only be purchased with a regular tent tag.
Every tent and trailer/RV in the camping areas must display an appropriate camping tag.
No campsites are sold without a festival purchase.
Additional Info and Reminders
We love dogs, but they are not allowed at the Millpond park as per the County of Inyo regulations. The No-Dogs policy is strictly enforced. If you wish to camp with your pet, you must camp in the Brown's Campground, and the dog(s)(or any other pet) are not allowed on park grounds.
We look forward to hearing from you on April 1st and seeing you at Millpond this fall.
Stay informed about all things Millpond by reading our email notices, following us on social media, or checking out our website at www.inyo.org/millpond.
Inyo Council for the Arts (ICA) is a non-profit community-based organization that advances the arts in Inyo County through participation, education, and collaboration. Art enriches lives, creates a language that connects all people, and celebrates diverse cultures and historical heritages. ICA provides venues for artists to perform and share their work, and for the community to gather in appreciation of the arts.