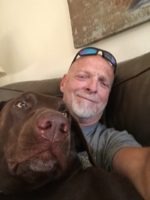 A soft-hearted guy with a quick smile and easy banter. Never met a child or animal that didn't adore
him. Always ready to volunteer for any community activity or to help anyone in need.
Greg was born on June 20,1965 in Anaheim, CA. As a teenager, he moved to Goldsboro, NC and graduated from Eastern Wayne High School in 1983. He served in the United State Air Force and was a partner in an auto repossession business for many years. He also coached youth baseball within the local communities. He was diagnosed with brain cancer, and after several years of treatment, he moved to Lone Pine, CA to work with his family at Boulder Creek RV Resort. Greg is survived by his son, Eric Jordan, grandsons, Elijah and Abram of Seminole, FL.,
Mother DeEtta Mitts (Harry) of Goldsboro, NC; father Gary Jordan (Aleta) of Los Angeles, CA and step- mother Linda Sanders of Discovery Bay, CA. Sisters: Lisa Rice (Craig) of Victorville, CA; Stacy Jordan (Dave Newhouse) of Toutle, WA Brother: Stephan Jordan (Catherine) of Brentwood, CA Nephew: Sean Rice Niece: Hannah Jordan Aunts and Uncles: Ginger and Rex Johnson of Eden Valley, CA; Art and Jaque Hickman of Lone Pine, CA; William and Judith Purtle of Cypress, CA Special friend: Jenifer Castaneda,  As well as many cousins, extended family and friends across the states.
Please join us in a celebration of Greg's life, lunch and memories
Saturday, March 5 th from 11 am – 2 pm
Mt. Whitney Golf Club in Lone Pine