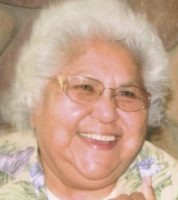 Long-time resident of Bishop CA, Josephine Robinson, passed on Monday, February 7th 2022 at her Bishop family home. Her family was at her bedside for her passing.
She is survived by her husband William F. Robinson of 67 years. Beloved mother of Edward Robinson and daughters Diane Rose and Linda Robinson. Grandchildren Kyle Robinson, Nicole Rose, Trevor Rose, and the late Chase Tague. Great grandchildren Lila Barney, Antonello Dondero, Kayann Dondero, Vera Robinson and Keller Robinson.
Born in Phoenix AZ, to Severino and Agnes Perez, she moved to Bishop at an early age. Sister to the late Willard and Warren Perez. A graduate of Bishop High School and L.L.A.C. for Vocational Nurses. She had lived in Altadena, Santa Rosa, and Pleasant Hill CA before returning in 1987 to care for her aging mother Agnes Perez. In 1989 she was joined by her long time companion, William, upon his retirement. They then spent the rest of their years as residents of Bishop.
Josephine enjoyed traveling, gardening, sewing, baking, and crossword puzzles. Bowling and a good game of backgammon or ping-pong always made her smile. But her biggest smiles always came from visits from her grandchildren. She never missed her favorite soap "Days of Our Lives".
A viewing will be held on Saturday, February 26th, 2022 from 9:00 to 11:00 AM at Brune Mortuary, 325 West Elm Street in Bishop. Graveside services and burial will follow shortly thereafter at 12:30 PM at Sunland Cemetery in Bishop.