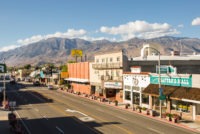 Inyo County's Business Resource Center should be up and running later this year, just in time to help existing businesses and encourage new entrepreneurs as the country pulls itself
out of the last two years of COVID.
The physical Center, on Bishop's Main Street, will soon begin the process of morphing
from the Crafters' Mall to a Center staffed to both help grow the economy and provide living
wage employment. Hopefully, local residents with the dream of starting a business will take
advantage of the opportunity to turn that dream into a reality.
The task of developing a business plan for the Center went to AccompanyCo six months
ago, with grant funding. During the past two weeks, the consultants presented their work
product to the Board of Supervisors and the Bishop City Council.
Work is also beginning on the physical building with plans for work stations, offices and
meeting facilities. The Center will serve as an incubator for fledgling entrepreneurs, a starting
point that, hopefully, will end with the new business occupying a physical space in Bishop. The
intent, to help future business owners wind through the labyrinth of permitting, licenses,
training and financing
The first part of AccompanyCo's presentation referenced a study done earlier, indicating
the County was "leaking" $77 million in retail sales. Translation: that's how much residents are
spending either on-line or out of the area. In addition to retail sales, AccompanyCo president
Thea Chase explained the potential growth of environmental science and consultants as well as
opportunities for renewable energy and manufacturing.
So how will the Center work, where will it start? Chase used a funnel analogy, identified
as a Navigator Program for future business owners to grow an idea into a successful business.
Hypothetically, the Center's staff will direct clients through the permitting and licensing process, work with both clients and lending institutions on financing for business start-ups and help with training in the basics of starting and operating a business.
In terms of business opportunities, environmental and climate-related businesses,
everything from clean-up to mitigation, was an obvious potential, in addition to retail and
manufacturing.
The initial study was grant funded through the U.S. Department of Agriculture. With the
on-set of COVID hampering some of the consultant's work, funds from that initial grant are
available for AccompanyCo to implement the plan. With an anticipated $293,000 to run and
staff the Center by 2026, the consultants referenced California grant programs available to help
cover those costs.