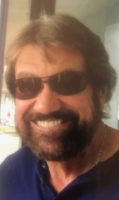 Lee Allen Keller of Lone Pine, California passed away unexpectedly at the age of 78, on Monday, January 17, 2022. He was born on September 24, 1943, in Los Angeles, California, as the only boy to four siblings. He grew up in Southern California and attended High School in Torrance, California. Before moving to Lone Pine, Lee was an upholsterer and owned his own furniture business. Lee's Frontier & Liquor was his legacy for more than 30 years, and he was known and respected in his community for his honesty, kindness, generosity, and unfailing sense of humor. Lee had a passion for classic cars and guns and enjoyed sharing them with his family and friends.
Lee is proceeded in death by his parents James and Dorothy Keller (Birch), and his sister Taffy Moreau (Keller). He is survived by his wife
Pam of 23 years, his children Mike, Tom, Ashley and Camaron, his grandchildren Ian, Sarah, Austin, Kyle, Kristopher, Ricardo, David Anelli
Rose, Matthew, Samantha, and Mia, as well as numerous great-grandchildren. Lee also leaves behind his sisters Cheri Keller and Leslynn
Hatcher.
Lee will be greatly missed by his family and friends. His memorial service will be held on Saturday, January 29, 2022, at 11 am at Mt.
Whitney Cemetery, in Lone Pine, California, with a celebration of life to follow at Mt. Whitney Golf Course.