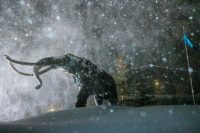 Mammoth Mountain is boasting the biggest early season snow dump since 2010. Photos on the internet show cars weaving down a Sierra Nevada mountain road surrounded by massive cliffs of snow. We're blessed, despite having to shovel all that stuff off our vehicles.
But, the real beneficiaries, in addition to Mammoth Mountain, are the Los Angeles Department of Water and Power and the ranch lessees, assuming nature's water tap doesn't shut down for the balance of this water year. The water year runs from October through April 1.
According to LADWP's precipitation conditions, as of December 28, the water content sits at 10.9-inches, 122-percent of normal to date and, here's the biggie, 48-percent of normal for April 1, 2022.
The numbers vary, starting at the north and moving south. Mammoth Pass sits at 116-percent of normal to date while Cotton Lakes registered 104-percent. Rock Creek and Gem Pass were the most gifted by last week's weather, both at 155-percent of normal to date and 61- to 66-percent normal to April 1.
It's too early to get really excited. Last year got off to a strong start, then fizzled out. But in mid-November, Chris Smallcomb told the Mono County Board of Supervisors he'd put money on the 2021-22 water year being "more active than the last few years." The area is still under the influence of a weak La Nina, which generally translates into low precipitation numbers.