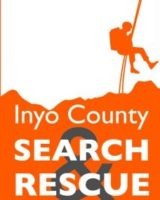 On December 13, 50-year-old Eric Goepfert left the Whitney Portal trailhead intending a winter ascent of Mt. Whitney via the Mountaineer's Gully and North Fork of Lone Pine Creek trail.  His itinerary was for five days and four nights in the backcountry.  During the time of Goepfert's hike, the Eastern Sierra received two major storm events with single digit temperatures, high winds and several feet of snow. When he did not come out as planned on December 17, his wife contacted the Inyo County Sheriff's Office and search planning was initiated.
On December 18, Inyo SAR members located Goepfert's rental vehicle at the trailhead.  CHP Inland Division helicopter H-80 conducted aerial searching with an Inyo SAR member on board.  They located Goepfert's Garmin inReach device and a trekking pole near the base of the Ebersbacher Ledges (a 200-foot third class ledge system that is part of the North Fork trail).
CHP Valley Division helicopter H-20 also conducted a search in the same area using a RECCO device (a harmonic radar system that detects passive reflector chips in certain outdoor clothing brands and electronics).  The RECCO detected a faint signal near the found items.  A CHP pilot was lowered via hoist cable to the location but did not find any further clues.
On December 19, 14 Inyo SAR members continued search efforts.  CHP H-80 inserted four SAR members at the base of the Ebersbacher Ledges, while other members hiked up from the trailhead. SAR members used an avalanche probe to locate Goepfert's body under deep snow at the base of the ledges, directly below his inReach and trekking pole.
Through investigation, it is believed Goepfert was experiencing headache and nausea (symptoms of acute mountain sickness, or AMS).  This, coupled with a heavy winter pack and the severe storm conditions, likely caused Goepfert to fall about 30 feet to the base of the ledges on December 14.
Goepfert served in the US Army from the age of 18 and was an active Army Reservist. Inyo County Sheriff's Office extends our deepest sympathies and condolences to the Goepfert family and to Eric Goepfert's teammates and friends.
The Inyo County Sheriff's Office thanks Inyo SAR, and CHP Inland and Valley Division Air Operations for their assistance.