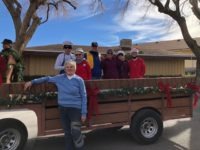 Shown taking a well-deserved break  "mule hitching" a ride after serving a Bishop Lions Club pancake breakfast to approximately 85 excited area youngsters and law enforcement hosts and hostesses this past weekend for Shop-With-A-Cop.
Pictured are (l-r): Lions Jackie Rupp (standing), 2021-2022 Club President Stan Smith, Pat Dean, 3rd Vice President Steve Cupp, Club Secretary Barbara Smith, Club Treasurer Jen Krafcheck, and nephew Addison Arneson.
The mule-drawn rig was at the Tri-County Fairgrounds passing by on its way back to the stables when the USFS muleskinner, Lee Roeser allowed the Christmas pancake party  to jump aboard for this photo op.