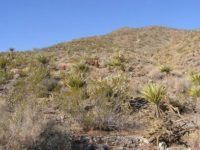 Sequoia National Forest officials announce the new Piute Mountains Travel Management webpage for public use. The Piute Mountains unit is a popular destination for off-road vehicle enthusiasts, hikers, and hunters. The area comprises a set of world-class OHV trails, a unique matrix of historically and culturally sensitive sites, a segment of the Pacific Crest Trail, and several rare and sensitive ecosystems.
The Piute Mountains Travel Management Plan will be the Forest Service's strategy for administering land access in the Piute Mountains. The area was not included in the 2009 travel management plan because the Piute Fire burned 37,000 acres of the Piute Mountains in 2008. This project will complete the forest-wide travel management plan, fully satisfying Subpart B of the agency-wide 2005 Travel Rule and 2009 Travel Management.
According to Norman Leonard, Kern River Ranger District NEPA Planner, the webpage will inform the public of the project's status while providing information in a centralized location on the Internet. "The goal is to provide a better view of the process, issues under consideration, and some insight into the analysis process," Leonard stated. "The project has a vast and diverse array of stakeholders, and there is an increased need for clear, timely communication."
The Piute Mountains Travel Management webpage is available on the Sequoia National Forest website at https://www.fs.usda.gov/main/sequoia/home. For more information regarding the Piute Mountains Travel Management process, email Norman Leonard at [email protected].
Forest Service roads and trails provide benefits for outdoor recreation, agriculture, permitted resource extraction, and public safety. They can degrade habitat for fish and wildlife habitat and be unsafe for travel when not properly constructed or maintained. Strategic planning is critical to balancing public access with sustainable resource management.