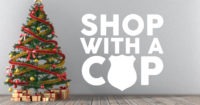 Shop with a Cop was a fun, if chaotic, event, really kicking off the Christmas season. COVID, and the loss of K-Mart, changed that drastically last year and this year the Eastern Sierra Peace Officers Association has made modifications that bring it a little closer to the original intent: both celebration of the giving season and a chance for kids to give presents to friends and family members.
The distribution date is Saturday, December 11, and yes, the Code 3 (lights and sirens) patrol car parade down Bishop's Main Street is back on, starting with a pancake breakfast hosted by the Bishop Lion's Club.
The Association, made up of Mono and Inyo sheriff's offices and Mammoth Lakes and Bishop police departments, has a list of 50 participating kids who have submitted their shopping wish lists. The gifts are being collected and prepped for distribution.
Shop with a Cop is totally donation driven and funds are still needed. Checks, made out to ESPOA with "Shop-with-a-Cop" in the memo line, can be dropped off or sent to any of the four participating law enforcement agencies. The Association is in the process of creating an online link for donations, in cooperation with the city of Bishop.
To stay updated on Shop with a Cop information, go to https://www.facebook.com/Eastern-Sierra-Shop-with-a-Cop-211017778977627