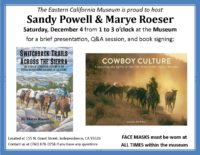 Join us at the Eastern California Museum as two local authors, Sandy Powell and Marye Roeser, share their new books with us. There will be a short presentation, followed by time for questions and answers. Immediately following both authors will be available to sign copies of their books, which are available for purchase at the museum bookstore. Just in time for the holiday gifts, this author event will occur on Saturday, December 4th between 1pm and 3pm at the Eastern California Museum (155 N. Grant Street, Independence, CA 93526). For more information, you can call the museum at (760) 878-0258. Also, take advantage of our Holiday Sale at the museum bookstore, everything will be 15% off, December 4th and 5th only.
Sandy Powell will present:
The Old West comes alive through extraordinary photography and fascinating stories of the Sierra Nevada in Powell's book: Cowboy Culture: Capturing the Spirit of the Old West in the Sierra Nevada. Weaving the past with the present, the book unfolds with historic photographs alongside contemporary images to help tell the story. Sandy resides in the Eastern Sierra and is very passionate about documenting the Old West. She spends many nights on the trail, under the stars, while seeking photos of wagon drives, cattle ranchers, Pony Express riders, and mule-packers of the High Sierra. Her detailed research and writing, and exquisite photographs have appeared in many publications including Western Horseman magazine, Draft Horse Journal, Western Mule magazine, and numerous art galleries (adapted from the author's publicity materials).
Marye Roeser will present:
Saddle up and ride the winding trails of the Sierra through the pages of Switchback Trails Across the Sierra: The Story of Commercial Packing in the Sierra Nevada Mountains of California. In the not so distant past, exploration and settlement of this vast mountain range depended on skillful packers and their resilient mules and horses. All transportation and supply needs were contingent on pack and riding animals. Author, Marye Roeser, long an integral part of the Sierra recreational mule packing industry, is a writer, historian, and painter of the Sierra scene. Roeser's book is the result of years of researching the commercial recreational packing industry as well as living it and being a part of this adventurous and historic culture (Adapted from the Bishop Mule Days profile).
The Eastern California Museum is a county facility and is required to follow all State and Local COVID protocols. Face masks are required indoors at all times and social distancing will be encouraged.