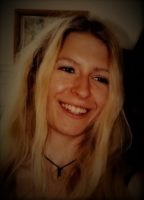 Christina Donovan-Dirk, of Bishop, CA, beloved wife of Sean Dirk, cherished daughter of Joseph L. Donovan and Susan S. Stiles, dearly loved sister of Joseph P. Donovan and Lisa Peters, passed away on October 24, 2021 after several years of debilitating illness. She was 40.
Born January 11, 1981 to Joseph and Linda Donovan, Chris grew up in Jarrettsville, MD. As a student, she was active in North Harford Ecology Club, and succeeded in permanently protecting the Kilgore Falls area from development. She graduated from North Harford HS in 1999.
Chris had an artistic creative personality, famed for her Halloween costumes, especially The Girl Riding an Ostrich. Almost 11 feet high on stilts, she exhibited the monster at the LA County Museum of Art as well as street parties and astounded family gatherings.
She loved the outdoors, and collecting natural curiosities. She visited Africa and Costa Rica. Chris moved to California where she met and married Sean Dirk in 2011. Together they created and ran the Bishop Burger Barn.
Chris loved the Sierra Nevada Mountains, hiking and rock-climbing. She painted beautiful watercolors. At her home in Bishop, she and her husband grew vegetables for their restaurant and took care of their very much loved, and possibly spoiled dogs Kate, Wiggles, and a gang of Chihuahuas.
Chris is dearly missed by her devoted husband Sean; parents Joseph and Susan; brother Joseph and his family Cory, Finn, and Carson; sister Lisa and her family Huck, Nathaniel, Alaina and Isaiah; and many relatives and friends.
A Celebration of her life will be held at her friend's home at 104 Sequoia Street, in White Mountain Estates, on December 11, 2021, at about 1:00pm with a potluck dinner to follow. Guests are encouraged to bring their favorite side dish. All her friends and admirers are welcome.