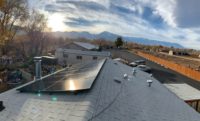 The Bishop Paiute Tribe is committed to energy efficiency, renewable energy, and environmental protection and has a vision to install solar energy systems on all buildings on the Reservation where technically feasible. The Bishop Paiute Tribe Residential Solar Program provides least 616 kilowatts of new, clean, renewable energy through grid-tied, net-metered rooftop solar electric.
On Tuesday, November 16th, The Bishop Paiute Tribe completed the 19th home of Phase 4 of the Residential Solar Programs, giving the Bishop Paiute Tribe a total of 182 solar powered residences, and, is expected to reach 200 by mid-2022.
The Coyote and Arrowhead apartments are soon be solarized through partnerships with GRID along with funding from "Solar on Multifamily Affordable Housing" and the "Native American Housing Assistance and Self-Determination Act". The Bishop Paiute Tribe's, Community Development Department is working with GRID on the projects.
Through state funding initiatives made possible by GRID Alternatives, Inland Empire, and competitive grant funding through the Dept of Energy Office of Indian Energy program these systems are provided at no cost to the homeowners, who also receive energy efficiency education to further reduce energy consumption and lower electric bills.
These installations offered opportunities for no-cost, hands-on intensive solar installation training. Tribal and community members, participants in previous trainings, as well as youth who participated in the Department of Energy First Steps funded Bishop Paiute Tribe Youth Solar Job Training Development Program, gained new skills and/or expand and refined existing skills while installing solar for their low-income community members. Each installation installed under the SPP phase of the project offered paid employment for 1-2 trainees hired local subcontractors Sierra Solar and Highpoint Solar, as entry level solar installers.
For more information on the Bishop Paiute Tribe's Residential Solar Program, contact Brian Adkins, Environmental Director at 760-873-3584 extension 2100.
# # #
The Bishop Paiute Tribe is a federally recognized Indian Tribe located on its 879-acre Bishop Paiute Reservation in Inyo County, California. The Reservation was formed under Congressional Act 5299, P.L. No. 43 of April 20, 1937. The Tribe is committed to the well-being of its people. For more information, please contact the Bishop Paiute Tribe at (760) 873-3584.