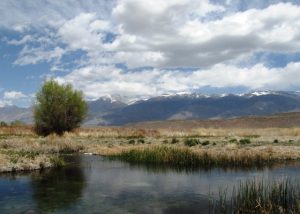 Sierra Bright Dot Fly Fishing Report 10-15-2021
Sierra Bright Dot Fly Fishing Guide Service
sierrabrightdot.com
A winter storm hit the Sierra first part of the week leaving the peaks of the Eastern Sierra frosted with snow. The canyons of the Sierra mountains up high at roads end are full of photographer's shooting fall colors. Some of the photographers have been lucky enough to have a fly fisher or two in their photos of the stream surround by trees of yellow and green. Minimal hatches and low water are affecting a number of Sierra Streams. Over all fishing is tough right now. Good fly fishing waters are the exception not the rule. Fall is definitively here in the Eastern Sierra.
South fork of Bishop Creek has perfect fall colors as a backdrop to fly fishing with nymphs and dry flies for the wild brook trout and brown trout.
Lower Owens River Wild Trout Section:
Flows are dropping and should be at 100 CFS by the end of the month. Right now the flows are at 225 CFS. These are wade able flows, but caution needs to be taken. There are hatches of blue wing olives and caddis happening mid-day. I've been observing ovipositing October caddis on the water from mid-afternoon to evening. I've not observed fish taking them, but I'm thinking I need to fish some size 12 orange bodied stimulators in the late afternoon. Euro nymphing with stoner nymphs, Frenchies and olive quilldigons are fooling the wild brown trout. Most of the action has been in the deeper slower pools.
Flows are at 225 CFS which is wade able, but are expected to be down to 100 CFS by the end of October.
Hot Creek:
Interpretive Site:
The mornings are cold and the insects are not active tell 9:00 or 10:00 A.M. It starts with tricos, then the gray caddis show up followed by the blue wing olive hatch which is over by 1:00 or 2:00 P.M. I'm fishing size 20 to 22 on 6X tippet of female trico parachutes, trico parachutes, trico spinners, gray partridge spent caddis, gray elk hair caddis, X-caddis, and blue wing olive parachutes. A good presentation with the insect that is hatching will produce fish for fly fishers. Observing which insect is hatching and which stage the trout are feeding on is crucial to success.
Hot Creek Canyon is providing trout for fly fishers that can drift their flies between the narrow slots of open water between the weed beds.
Hot Creek Canyon Section:
Morning are offering good action with nymphs and dry flies that imitate blue wing olive mayflies and gray caddis. The action starts around 10:00 A.M. and is over by 2:00 P.M. Blue wing olive parachutes in size 20 or 22 are matching the hatching mayflies. Partridge spent caddis in gray, X-caddis in gray, and gray parachute caddis are matching the hatching caddis flies. Fly fishers fishing nymphs have to put up with hanging up on the weeds in the creek. For anglers willing to ply the waters with size 18 or 20 bead head pheasant tail nymphs and size 20 gray La Fontaine emerging caddis the trout are readily taking the nymphs if presented on 5X tippet. This is a perfect place to be fishing with a dry and dropper.
Upper Owens River:
Above Benton Crossing Bridge:
Fly fishing for trophy trout has been tough as there are few trout in the river and lots of anglers have been fishing nymphs and streamers over the trout in hopes of fooling one of these trophy trout. Successful anglers have been covering a mile or two of river looking for trophy trout and fly fishing deep holes and runs. Successful anglers are catching one to two trophy trout per outing. Euro nymphing with stoner nymphs, green/gold Prince nymphs, egg patterns, San Juan Worms in red, and gold ribbed hares ears with lots of weight in the flies to get them down on the bottom are fooling the few trophy trout that are in the river right now. I keep expecting a big run of fish to show up any day now. I'm fishing the river once or twice a week expecting it to break loose each time I drive up the hill to fish the upper Owens River.
Covering a mile or two of river working streamers and nymphs through the deep holes and runs is how successful fly fishers are fooling one or two trophy trout a day.
Upper Owens River:
Below Benton Crossing Bridge:
The fish are still stagging at the mouth of the river in preparation for migrating up river to their spawning grounds. Fish that have entered the river are resting in deep holes or slots after travelling up river. The area of the monument is a great area to find trophy trout. Working black streamers like wooly buggers, zonkers, and slump busters on the bottom of the deep pools and streams is enticing a few trout to hit. There just are not many trophy trout entering the Owens River yet this season.
Bishop Creek Canal Behind the Ford Dealer:
Fishing here has become a mid-morning affair. Size 20 blue wing olive mayflies are hatching and the wild and stocked trout are feeding on the nymphs and the adults. Size 20 blue wing olive parachutes are a good imitation of the hatching blue wing olive mayflies. For the nymph fish a size 20 bead head flash back pheasant tail nymph. I'm fishing the nymph three feet under an Adams Parachute on 5X fluorocarbon tippet.
The blue wing olive mayflies have been providing action for fly fishers middle of the day.
⦁ SIERRA BRIGHT DOT FLY FISHING GUIDE SERVICE
⦁ sierrabrightdot.com
[email protected]
⦁ Instagram @sierrabrightdot
⦁ Facebook – Sierra Bright Dot Fly Fishing Guide Service
⦁ YouTube – Sierra Bright Dot Fly Fishing
⦁ (760) 920-8325