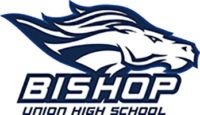 Bishop girls tennis won their first league match on Thursday against Rosamond. Score Bishop 8 Rosamond 1.
5 points were won on the singles side and all 3 doubles teams won their matches .
Senior Jacee Carpenter played some great tennis competing as the # 1 in both singles and doubles for the day. Playing in the # 1 spot is tough but Jacee always gives 100 % even when she is losing.  She lost to the  # 1 singles player from Rosamond 3-6 2-6 but then in the doubles she partnered with Ximena Cervantes and won 7-5 6-1.  Ximena Cervantes won her first singles match of the season 6-2 6-1
Emma Thornburg won 6-4 6-0   Dominique Osland won her singles 6-0 6-1.  Olivia Ellis won 6-0 6-0 and Darby Swanson won 6-0 6-0.
Senior Leslie Mena and Laurel McElroy won their doubles 6-2 6-3.  Leslie has always had such a positive attitude on the court.  She is always encouraging to whoever she has for a partner said Cummings
Dominique Osland also played doubles with Ava Arceo and they won 6-0 6-0 . Ava is a sophomore and  one of the new players to the sport and the team . She has shown great improvement in just a few short weeks" said Cummings.   This was her first win also today.
Senior Karina Jackson also played some singles with the alternate from Rosamond .  She won 6-4 6-4
I'm glad we have had the last few weeks to work on strategy and strokes
said Coach Cummings" The girls played with confidence today  I was most proud of their sportsmanship and the way they interacted with their  opponents  on and off the courts.  Next up for Bishop on the road to Kern Nalley Tues Oct 5th .