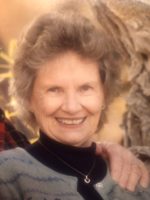 Our beautiful Mom passed away peacefully, September 25, 2021, at the Bishop Care Center.  Our hearts are broken, but know she is with Dad and we are sure he asked, "What took youso long?"  Mary Jane was born to Bonnie and Ralph Lutzow, August 24,1934, in Santa Monica, Ca. She was 87.
Living for a short period of time in Mojave, Ca, her family settled in Bishop, where she remained for the rest of her life.  Growing up in Bishop and attending elementary school, Mary Jane forged many lifelong  friendships with, to name a few, Jeannette, Lucy and Shirley.
Before graduating from Bishop Union High, she met Frank (Myrlin) Carr, they married in November 1952 and were married for 66 years before Myrlin's passing in 2018. They had four children and raised them in Mary Jane's family home on May Street.
Throughout her life she worked many jobs, but adventually worked for Bishop Union  Elementary School District, 30+ years, before retiring at the age of 72.  She loved to sew, making many beautiful quilts, and sharing her quilts with her loved ones. She also was an excellent cook, no one could make potato salad, fruit salad, fried chicken or Mac-n-cheese like Mary Jane. Recipes we still use and will carry on for generations.
She had many special qualities, but most of all she was a devoted wife, mother, grandma, great-grandmother, wonderful sister and a dear friend. We all loved her dearly, she will be greatly missed.
She was preceded in death by her parents, Ralph and Bonnie, sisters Barbara Crosby, Susan Burkett and her beloved husband Myrlin.She is survived by her brother Warren (Lori) Lutzow, her children, son Frank Jr. (Micky), daughter Annetta (Jack) Mullenaux, son Robert (Kristin) and son David (Refugio).  Eleven grandchildren (Carr) Matthew, Aaron, Seth, Whitney, Garrett, Shannon, Raymond, Ryan, (Morley) Kevin, Jamie and Daniel. Twenty-four great-grandchildren, numerous nieces, nephews, cousins and friends.
A celebration of life will be held on November 6th, 2021, Whiskey Creek at 2:00pm. In lieu of flowers please bring your favorite memory of Mary Jane.