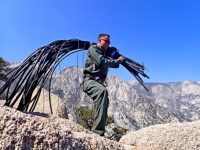 Recently, US Forest Service Law Enforcement and Investigations (LE&I), California Department of Fish and Wildlife, and the Integral Ecology Research Center cleaned up three illegal marijuana cultivation sites on the Inyo National Forest.
LE&I coordinated and funded this reclamation effort. The LE&I helicopter was provided for this operation.
Thirteen people from these organizations spent four days gathering trash, black plastic pipe, pesticides and other materials used for illegal marijuana cultivation. Of note:
3,140 pounds (1.57 tons) of trash were removed, including 8 loads by helicopter
4.87 miles (25,760 feet) of irrigation pipe removed
"It's great to see these organizations come together to restore our shared National Forest System lands," said Forest Supervisor Lesley Yen. "Reclamation even occurred in two sites within the John Muir Wilderness and in Sierra Nevada bighorn sheep habitat. Protecting the special natural resources on this forest is core to the values off the US Forest Service, and of those who live near and recreate here."
The steep terrain, remote areas and seclusion of the Inyo are a challenge to cleaning up the sites used for illegal marijuana cultivation. "I deeply appreciate the efforts of LE&I and partner agencies and this difficult work to restore the ecosystems and watersheds that are being impacted by pesticides, fertilizers, redirected water, and trash," Yen said.