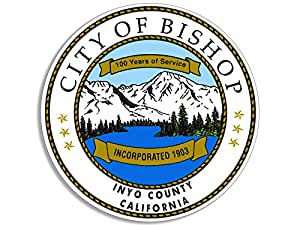 Bishop's City Council meeting started out with proclamations recognizing and honoring the Hispanic and Native American communities in the Bishop area: the month of September 15 through October 15 was proclaimed Hispanic Heritage Month; September 24 was Proclaimed California Native American Day, a tradition begun by Gov. Culbert Olson in 1939.
The first policy item will disappoint locals who like to listen in on Bishop Police Department radio communication. Chief Richard Standridge asked that the department's radio system be upgraded to allow for the now required encryption. Last October, the California Department of Justice outlined "the requirements….to protect information transmitted," including name, date of birth, address, etc. The encryption will cost $42,693.
On the bright side for the curious, Bishop PD will upgrade their system to include Citizen RIMS software—the same system Inyo County Sheriff's Department uses to notify locals of arrests. The initial cost will be $4,200 with an annual fee of $400. Standridge saw the system as a way to "help people keep a watch out for each other."
Next up was a presentation by Omar Herrera with Enterprise Fleet Management. As Public Works Director Destin Dishion explained, the 18 vehicles currently in the City's fleet range in age from one to more than 22 years old, with an average age around 10 years. According to Herrera's plan, the City could save $318,000 over the next 10 years if Bishop let Enterprise buy and maintain fleet vehicles. As Dishion said, keeping older vehicles functional was a costly proposition.
As Herrera pointed out, some of that savings would come from lower maintenance costs as well as the higher value when the vehicles were sold after fewer years in service. The choice of lease or purchase was up to the City.
The Council was interested, more specifics to come.