For those upset about the loss of big old trees on Bishop's South Second St. project, some consolation – 70 new trees.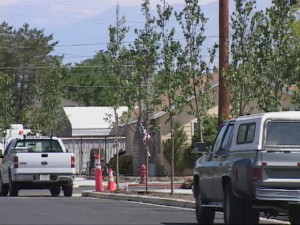 Bishop City Councilman Jeff Griffiths said that the Bishop Tree Forum, of which he is a member, came up with a list of trees suitable for long life in Bishop. They ordered up 70 maple trees.
Turns out that some confusion in the order over the size of trees ended in receipt of much bigger trees. Maples of 20 to 25 feet in height.
Bishop Public Works Director Dave Grah said the specs were somewhat confused. The City meant to order smaller trees that are easier for homeowners to handle and plant, but when the big 25 footers showed up, Grah said the City decided to do the planting.
So, while they still fall far short of the huge trees that came down, the bigger maples have a greater head start.
Next, City of Bishop crews will move on to a project on Grove St. Again, 70 new trees will go in to replace lost trees. Work should start around the first week in June. Trees will go to homeowners and possibly business owners.
The project involves sidewalks, curbs, gutters and drainage improvements, plus replacement of the main water line and addition of new fire hydrants.