Up next on Sierrawave Presents: DRAGNET!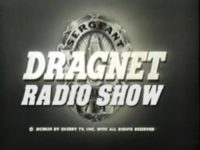 Dragnet, the radio series, premiered on NBC on June 3, 1949 and ended on February 26, 1957. A set of 314 original episodes aired between June 1949 and September 1955. Int this June 10, 1949 episode entitled, HOMICIDE, A nickel-plated .44 caliber Smith & Wesson is used to shoot two officers, but conflicting descriptions of the assailants from multiple witnesses create a unique challenge.
Dragnet was an American radio series, enacting the cases of a dedicated Los Angeles police detective, Sergeant Joe Friday, and his partners. The show took its name from the police term "dragnet", meaning a system of coordinated measures for apprehending criminals or suspects.
Dragnet is perhaps the most famous and influential police procedural drama in media history. The series gave audience members a feel for the boredom and drudgery, as well as the danger and heroism, of police work. Dragnet earned praise for improving the public opinion of police officers.
Dragnet will air On Sierrawave Presents from June 7th – June 18th
Tune in to Sierrawave Presents Monday, Wednesday and Friday at 8pm, only  here on Alt 92.5, KSRW
Sierrawave presents is brought to you by The Inyo Council for the Arts