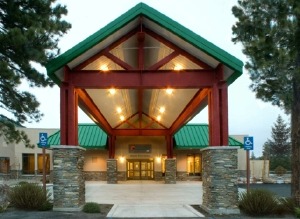 Colds have already started to make the rounds in the Eastern Sierra, and Mammoth Hospital warns that a particular virus has come up this year – one that particularly hits children. It's called Respiratory Syncytial Virus or RSV.
Public Relations Coordinator Ehren Goetz reported that Mammoth Hospital has seen five cases of RSV in the last ten days which is far more than average. Officials say this suggests the virus will be more prevalent this winter.
Symptoms of RSV infections include coughing, sneezing, ear ache, runny nose, fever and decreased appetite – very similar to the common cold. Health officials say both illnesses are very contagious and should be monitored closely. The Mammoth Hospital press release says tat the virus on its own is not something to worry about unless the person has trouble breathing. This can lead to pneumonia or other problems, especially for small children.
Those at highest risk for RSV complications are children and babies. According to Mammoth Hospital, almost all children will have had an RSV infection by their second birthday. Most recover in one to two weeks. Fewer than half of children with RSV will develop serious symptoms and fewer than .05% will require hospitalization.
RSV can not be treated with antibiotics. Mammoth Hospital Infection Control Coordinator Margy Klammer said, "If your child is wheezing or having trouble breathing, call your doctor. We are seeing an unusually high rate of admissions for RSV this time of year," she said, "and it's important to report any respiratory problems in children early."