47 cats, seized by Inyo County Animal Control in July, now belong to the County and will go up for adoption.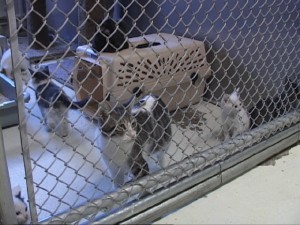 The cats belonged to Catherine Maffioli who faced charges of animal neglect after seizure of the cats from her van. Sources said that the cats lived in hot, crowded quarters with one litter box and very little water. Many of the cats suffered from respiratory illness.
The cats remained at the Animal Shelter, pending court action on Maffioli. Last month, Inyo District Attorney Art Maillet said that the case would go to a civil procedure. Inyo County had failed to give Maffioli a required administrative hearing 48 hours after seizure of the cats. This hearing was held a couple of weeks ago.
To get the cats back, Maffioli had until Friday to pay several thousand dollars in fees and to prove the cats would have a safe place to live. Animal Control Officer Tim Proffitt indicated that this didn't happen and that the cats are the property of Inyo County.
The cats, now in good shape, are up for adoption. Interested owners are now filling out applications.