Press release
Mammoth Lakes, Calif. — One-of-a-kind jewelry, paintings, photography, ceramics —you'll find this variety and more to delight your art appetite at the 44th Annual Mammoth Lakes Fine Arts and Crafts Festival August 5-7, 2016.
Unplug and enjoy a peaceful, leisurely stroll against the majestic background of the Sierra Nevada mountains at this open-air, annual event. Celebrate summer during and walk among the work of celebrated artists, chatting with them about their showcased latest and original works.
The free event, which runs from 10 a.m. to 5 p.m. each day, takes place on the grounds of Kittredge Sports, at the corner of Highway 203 (Main Street) and Forest Trail in Mammoth Lakes. On display will be a wide variety of arts and crafts including photography, watercolor and oil paintings, ceramics, jewelry, woodwork and much more.
Jewelry (photo attached)
Cathy Enright's passion for creating jewelry started with a love of semi­precious gemstones, and evolved into a desire for creating handcrafted pieces of contemporary style jewelry using sterling silver, copper, gold and semi­precious gemstones. The abundant natural beauty of her surroundings in California's Eastern Sierra inspires Cathy's work.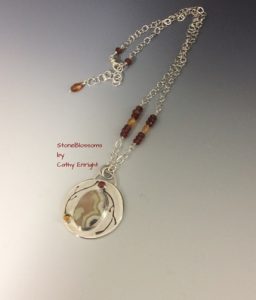 Short walks near her home studio and long hikes in the mountains supply her with plentiful ideas for pieces that strive to reflect nature's beauty and forms. "What surprised me about embarking on this venture is how much joy I get from people buying my jewelry," says Cathy. "I feel so honored to be a part of the story of a piece of jewelry that is given as a gift, or bought as a gift to yourself…to make you feel good. Because jewelry and gemstones do just that…they make you feel good!"
Ceramics (photo attached)
Bruce Fairman initially trained as a production potter for ten years and eventually became one of the chief designers for Doris Designs, a porcelain jewelry manufacturer.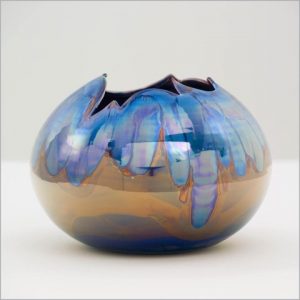 In his early pottery career, Bruce studied classic vessel forms, the influence of which can still be seen today. All of his pottery is made from either porcelain or white stoneware clay, and each piece is created individually by hand on a potter's wheel. Each shape is designed to capture both elegance and classical Oriental simplicity, while ultimately highlighting Bruce's signature glazes, which he developed himself over years of trial and error.
Each piece receives its unique colors and hues from the additional minerals added to the glaze. Bruce's work has been shown in invitational exhibitions throughout the United States, and his pieces have been featured in galleries as far away as Hong Kong.
Photography
Vern Clevenger is possibly the Eastern Sierra's most established and well-known explorer, advocate, photographer and educator. Though his heart is in the Sierra Nevada, his photography and workshops range from Mammoth Lakes, Yosemite National Park, Sequoia and Kings Canyon National Park to Big Sur in the United States and the beautiful regions of Provence, France and Venice, Italy in Europe.
Vern used film cameras until 2010 for the initial exposure. These days he incorporates digital processes to produce constant improvement in his art prints, but he remains faithful, as well, to fundamental principles of classical photography. Vern considers himself to be a "fine print-maker" just as much as a "fine-art photographer".
Painting (photo attached)
Robert Fleming and Nancy Lynn, a husband and wife duo, reside in Bermuda Dunes, primarily painting and showing their works locally and throughout the Southwest. Their works in watercolors (Bob) and acrylic (Nancy) most often depict a myriad of desert scenes, cheery blooming cactus and idyllic landmarks painted on location. Both artists are perennial favorites of La Quinta Arts Festival and Art Under the Umbrellas – always exhibiting side-by-side.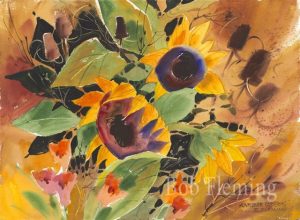 Bob began his painting career at Hallmark Cards in Kansas City designing cards, gift-wrap and books. It was there during a watercolor demonstration by the world famous John Pike that his keen enthusiasm for watercolor painting emerged. His original watercolors are created using a wet-in-wet technique giving them a fresh and spontaneous feeling. In 2008, Fleming had his historical golf painting based on the 1913 US Open accepted into the Golf Hall of Fame in St. Augustine, Florida.
Southern California born and raised, Nancy paints in a style that reflects the vibrancy and energy of her beloved sun-drenched vistas of the remote Southwest desert. Although her works are plein air, they have a unique vitality and abstract impressionism, which elevates them above the typical "open air" genre. Yet with all the energy her works exude, there is an intriguing, peaceful sense of order and feeling of deja-vu in Nancy's paintings.
For more information, contact Kittredge Sports at (760) 934-7566 or Pacific Fine Arts Festivals at (209) 267-4394 or visit http://www.pacificfinearts.com/. You can also see more information on Facebook, Twitter, Instagram and Pinterest.