During Tuesday's, June 30, Inyo County Board of Supervisors virtual meeting, Marilyn Mann, Director of Health and Human services, reported that the county has experienced a "spike" in confirmed COVID-19 cases over the last two weeks. There are 32 current, positive COVID-19 cases, the most recent one added just that morning on Inyo County's COVID-19 website. Mann said that there is an increase in cases as "there is more movement in communities."
Two weeks ago, the Inyo County Situation Update for June 15, reported 24 cases. Since then, there have been 13 more cases, with the most recent one confirmed on Tuesday morning. Mann said that the majority of cases, 20, have fallen between the ages of 19-49, which is consistent with reports coming from around the country and the state that the major increases have been coming from young adults.
According to Mann, there are no current cases in Inyo County that have been hospitalized. Those that are positive for the virus or exposed to it, or who may have been exposed, have been quarantined or self-isolated at home.
Consistent with other reports coming from the state, the county is seeing this "spike" in cases, in part, because people are not fully following the guidelines of avoiding gatherings and are engaging in some non-essential travel, despite the Governor's Stay at Home Order still being in effect.
There has been little evidence or reports that Inyo County has been enforcing its public health orders, especially on the wearing of face coverings/masks inside businesses, although it is well-known on social media the a number of businesses are known to be flouting the health orders. Most responsible business owners appear to be at least trying to enforce it; many succeeding, while a few don't even bother to pretend to respect the health orders.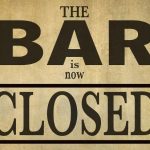 A rare example of health enforcement action happened over the weekend in Mono County when the Public Health Officer, Dr. Tom Boo, ordered the immediate closing of the Tiger Bar in June Lake after repeated warnings, to protect the public. There have been no known similar actions, much less warnings, by Inyo County Public Health. In fact, it appears that nothing is really being done to protect the public in the enforcement area other than provide reminders along the highway and providing posters for businesses  that state "Inyo County requires mandatory face-covering/mask," which is often simply ignored by visitors and some residents as well.  A few irresponsible business owners are not requiring their customers or their employees to wear masks in the workplace.
Recognizing the non-compliance issues, Mann said the county Health and Human Services Department has been looking at the issue with the county attorney regarding enforcement strategies. She noted that her department is not an enforcement agency. On the other hand, Inyo County residents might wonder how it is that Mono County just proved that it can enforce a health order, even shut down a business immediately, in the interest of public safety, while Inyo County appears to be sitting on its hands doing nothing? So far, Inyo County's idea of a "measured response" appears to have been" no response at all."