Press release
On Sunday February 21st, The Eastern California Museum in Independence will be hosting a book signing event with author and local Owens Valley resident David Woodruff' for his new history book by Arcadia Publishing-Furnace Creek Resort.
Woodruff lived and worked at Furnace Creek Resort for over 17 years, pursuing his lifelong interest in exploring Death Valley and researching its fascinating history.
He has compiled historical photographs and documents made available by Rio Tinto Minerals (formerly the Borax Company), along with the National Park Service in Death Valley, to tell the story of Furnace Creek Resort.
Furnace Creek Resort is actually two different hotel properties in Death Valley, Furnace Creek Inn and Furnace Creek Ranch. Since the opening of the Inn in 1927, with just 12 guest rooms, Furnace Creek Resort has achieved preeminence among US National Park lodges and hotels.
Conceived by the Pacific Coast Borax Company in 1926, the inn was the answer to the declining mining industry, which had left the Death Valley Railroad with nothing to haul. The construction of Furnace Creek Inn helped to shift Death Valley's draw from mining to tourism, bringing a new industry to the Old West.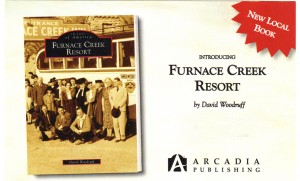 Steeped in history and tradition, the inn and the ranch have become as much a destination as the park itself.
With naturally heated swimming pools, the world's lowest golf course, four-diamond hospitality, and surroundings of unsurpassed natural beauty, Furnace Creek offers experiences that are long remembered by its guests.
The book-signing event will be held on Sunday February 21st at the Eastern California Museum from 1pm to 3pm.
In addition to the book signing, Woodruff will have on display some of his personal collection of rare Death Valley ephemera, photos and memorabilia.
For more information, call 760 878-0258.