Press release
(January 8, 2016) BISHOP, CA: The Salvation Army announced today that its thrift store in Bishop, CA will close effective Saturday, January 23.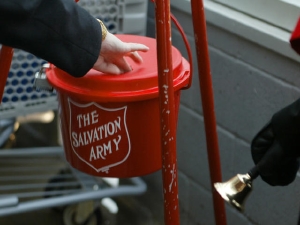 The thrift store, located at 1180 N. Main Street in Bishop, has been operated by The Salvation Army Bishop Corps for several years. Although local support of the store has been good, its has not been able to profit enough and the decision was made to close it.
"Making the decision to close this store was a difficult one," said Lt. Cathie McCulley of The Salvation Army Bishop Corps. "While the town of Bishop has been supportive of the store, it wasn't enough to cover our overhead expenses."
The Salvation Army has a long tradition of operating successful Thrift Stores throughout the country. Each store, including the Bishop location, is operated to raise income for the social services and other programs The Salvation Army provides in the area. If a Thrift Store operates without profit, it has the potential of effecting the local social service programs.
"Our main mission is to provide helpful services for those in need," said Lt. McCulley. "Despite the thrift store closure, we remain committed to providing social service assistance, worship and fellowship offerings to the community of Bishop, and its surrounding area."
The Salvation Army Bishop Corps, located at 621 W. Line Street, provides a variety of services to the Inyo County area, including assisting families and individuals in emergency situations with basic human needs such as emergency food, clothing, health services and shelter. Worship programs, a Sunday Community Breakfast, and emotional and spiritual counseling are also provided, as well as referrals to rehabilitation programs.
Seasonal assistance is offered through The Salvation Army during the holidays, providing meals, food boxes, coats and toys to families and individuals in need. The Salvation Army has a team of disaster response trained volunteers on stand-by, ready to deploy and assist with both local and regional disasters, including forest fires and large-scale accidents on Highway 395. In addition, The Salvation Army aims to eventually open an after-school program.
The thrift store space on Main Street had been leased by The Salvation Army. In October, The Salvation Army announced that it was searching for a new building to purchase that would allow The Salvation Army to consolidate its worship, social services, and thrift store operations into one location. They are still working with local stakeholders to identify available options.
"Even though the thrift store is closing, its not necessarily a permanent closure," said Lt. McCulley. "If we are able to acquire a new building that can meet our space needs, we would revisit the idea of re-opening the store."
Store will remain open through Saturday, January 23, pending available merchandise. Donations will not be accepted after Wednesday, January 13. Daily shopping hours are Tuesday through Saturday, from 9:30am to 5:00 pm (subject to change).
More information about the programs and services offered by the Salvation Army of Bishop can be found online at www.SalvationArmyBishop.org, or on Facebook at www.facebook.com/SalvationArmyBishop.
###
About The Salvation ArmyThe Salvation Army, an evangelical part of the universal Christian church established in London in 1865, has been supporting those in need in His name without discrimination for more than 130 years in the United States.
Nearly 30 million Americans receive assistance from The Salvation Army each year through the broadest array of social services that range from providing food for the hungry, relief for disaster victims, assistance for the disabled, outreach to the elderly and ill, clothing and shelter to the homeless and opportunities for underprivileged children. 82 cents of every dollar The Salvation Army spends is used to support those services in 5,000 communities nationwide.
For more information, go to www.salvationarmyusa.org.