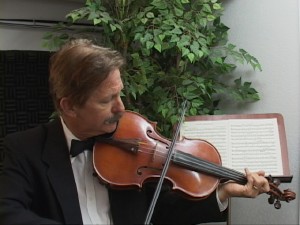 Starting Thursday, the Sierra Summer Festival returns to Mammoth Lakes for the 33rd year of classical music in the Eastern Sierra. This year, the Sierra Summer Festival presents Beethoven, played live on stage by musicians, both local and from out of the area.
One of the local musicians is Pete Watercott, aka Fiddlin' Pete, who may be best known for his country and folk tunes played on fiddle and guitar, but sometimes that fiddle is transformed into a violin, or in some cases a viola, on which he leans farther back into the musical past to play classical music.
Fiddlin' Pete Watercott will be joined by 69 other musicians when the Eastern Sierra Symphony takes the stage for the Sierra Summer Festival starting Thursday.
The Thursday night concert start at 7:30 pm at the St. Joseph's Catholic Church in Mammoth Lakes. Tickets start at $10.
The Friday night concert starts at 7:00 pm in the Mountainside Conference Center at Mammoth Mountain. The Saturday night concert, following the gala dinner, starts at 8:00 pm also at the mountainside conference center.
Tickets and information are available online at www.sierrasummerfesitval.org.