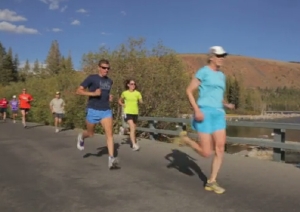 2ND ANNUAL MAMMOTH HALF MARATHON & 5K TO BE HELD ON SUNDAY, JUNE 22, 2014
Premier Event to Benefit Mammoth Lakes Community Features a New Route
MAMMOTH LAKES, CA – The 2nd Annual Mammoth Half Marathon & 5K, a one-of-a kind race event, with 100 percent of its net proceeds benefiting local causes, is set to take place the weekend of June 21 – 22, 2014, in Mammoth Lakes, California. The inaugural event in 2013 hosted over 1,000 runners between the half marathon and 5K distances, and donated over $9,000 to Disabled Sports Eastern Sierra, Mammoth High School and other local nonprofit organizations. Registrations are outpacing last year by 30% and partner hotel rooms are already up over 40% more than last year's successful event.
The Mammoth Half Marathon is a nonprofit 501(c)(3) organization, whose mission is to put on premier running events and catalyze volunteerism as a way to help communities. The half marathon starts at almost 9,000 feet above sea level at Horseshoe Lake, and features a picturesque, mostly downhill 13.1-mile course, including a new scenic loop around Lake Mary. The 5K's 3.1-mile course takes runners of all ages and abilities through a beautiful route around downtown Mammoth Lakes. Both races culminate in the "Celebrate Mammoth Lakes" block party in downtown Mammoth, which includes music, entertainment and a family fun zone.
The half marathon race is the second leg of the San Diego-Mammoth Challenge; finishers of both the San Diego Half Marathon, which took place on March 9, 2014, and the Mammoth Half Marathon, will receive a special extra- large, spinning Challenge medal.
"Mammoth Lakes is such a perfect place to host an event of this kind," said Susan Briggs, Executive Director of both the San Diego Half Marathon and Mammoth Half Marathon, "The community support at last year's inaugural race was outstanding, and we are thrilled that over 1,300 runners have already signed up for the 2014 event. And, the new loop around Lake Mary will make this race one of the most scenic half marathon courses in the world."
The weekend festivities include a Sport, Health & Fitness Expo to be held on Saturday, June 21 from 12 pm to 8 pm at the Village Lodge, where runners will pick up their race packets, and vendors will provide interactive demos and product samples. The half marathon and 5K will take place on Sunday, June 22, both starting at 7:30 am, and the Celebrate Mammoth Lakes Block Party will take place concurrently on June 22 from 7:30 am to 1:00 pm on Old Mammoth Road. The Expo and Block Party are free and open to the public. A limited number of bibs for both races may be available for sale on-site at the Expo if online registration does not sell out.
The Mammoth Lakes, Crowley Lake, Bishop and surrounding communities are encouraged to come show their support of any and all of the weekend's activities. For information on road closures and detour information, visit the Community Info page on the Mammoth Half Marathon & 5K website at www.mammothhalfmarathon.com.
About the San Diego Half Marathon & Mammoth Half Marathon The San Diego Half Marathon is a nonprofit 501(c)(3) organization with all net proceeds benefiting community service projects and select charitable causes. In addition to charitable giving, the San Diego Half Marathon was created to catalyze volunteerism as a way to build community spirit and boost neighborhoods in need of support, and also benefit select charities by enabling runners to raise funds for them.
The Mammoth Half Marathon is a premier race that celebrates the beauty and uniqueness of the Mammoth Lakes area, while raising money to help its communities, and the second leg of the San Diego-Mammoth Challenge. The race is organized by the San Diego Half Marathon team. 100% of the net proceeds from the Mammoth Half Marathon & 5K event will go towards community service projects and select charitable causes in Mammoth Lakes. More information can be found at: San Diego Half Marathon: www.sdhalfmarathon.com Mammoth Half Marathon: www.mammothhalfmarathon.com