– Press release
24 Hour Adventure Race Comes to the Eastside June 6-7
15 different Eastern Sierra agencies have come together to permit the first ever adventure race to Mono and Inyo counties. On Saturday, June 6, solos and teams of up to four will board busses in Bishop to be dropped off at Madonna Mountain for a kayaking, mountain biking, and trekking adventure. Racers will gather check points, some mandatory, some optional using map and compass and have no outside help. They will finish the course in downtown Bishop early on June 7.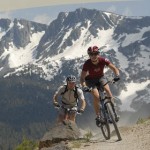 Says race director Yishai Horowitz, "Some world class adventure racing teams are coming out for this – we expect them to come in around the 19 hour mark, but for beginners or simply slower teams, it's a full 24-hour course." Teams are coming internationally as well as from as far away as New Hampshire.
The event, put on by San Luis Obispo, CA-based All Out Events, will be the team's second 24 hour race in ten years of adventure racing. "It's the white whale of courses," Horowitz said. "Many adventure race producers have wanted a race on the Eastside and we're so fortunate to have made this happen." Since the area is surrounded by Wilderness and cultural and environmentally sensitive areas, it took some solid partnership with the area's land managers to come up with a viable course. Horowitz's wife, Kristin, and production manager for the event, lived in the area in the early 2000s and the team is excited to show teams some of the hidden gems she's discovered in her time there and since.
Event proceeds will be split between Inyo and Mono County Search and Rescue teams. The cost to participate is currently $320 a person, and includes bus ride, waterproof topo maps of the area, breakfast, tech shirts, finisher prizes and cash awards for the top three co-ed teams participating – not to mention an epic adventure.
You can visit www.alloutadventureseries.com to find out more.