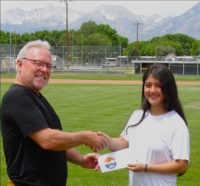 INYO350 is proud to have presented Karina Garibay-Solorio with our first annual Sustainable Careers Scholarship of $2,000. The intent of the scholarship is to encourage and assist local graduating high school students in their pursuit of an education and career that will help improve the environment and address issues of global climate change.

Karina has an excellent track record as a student at Bishop Union High School (BUHS), and has participated in a variety of extracurricular activities, including the school's Recycling Club, as well as other volunteer and work experience. She is pursuing her bachelor's degree in Structural Engineering at UC San Diego. She plans to incorporate sustainable building techniques using low carbon building materials and high efficiency structures using renewable energy sources.

Karina's chosen path is critically important to reducing greenhouse emissions. While we all know about carbon from vehicle tailpipes and cow tailpipes, most of us don't know that construction and operation of buildings accounts for about 40% of global carbon emissions! Karina and others in her field can make a dramatic difference in our world's future by changing that equation.

Evaluating and deciding on just one student of the many who applied for this scholarship was not easy, and we were thrilled to see the interest that so many students showed in applying their careers to address climate issues. Thanks to your generosity, the 2022 scholarship fund exceeded our expectations, allowing us to grant gifts of $350 to six other deserving applicants who also demonstrated a desire to make a difference in our world. We hope that these gifts will help encourage these students also to keep our environment and climate in mind throughout their future careers. 
GRATITUDE!
The Board of INYO350 wishes to thank all of you who joined in supporting our local students in their pursuit of sustainable careers! We intend to build on this program for next year, with hopes of granting scholarships to more students and possibly to more schools in the area. We also want to thank our sister organization 350 MONO, whose members assisted in this effort as well.
We can do more!
It's not too early to start building the 2023 Sustainable Careers Scholarship Fund! If you want to be one of the first to support the next graduating class in caring for our planet for their lifetimes, you can start TODAY! Please visit our website at INYO350action.org to donate or view our scholarship page. If you prefer "analog", you can write a check to INYO350 at PO Box 623, Bishop, CA, 93515.
For questions/comments about the scholarship program, please reach out to us at [email protected]