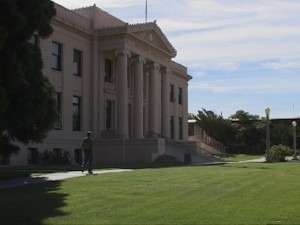 INYO COUNTY ACCEPTING COMMUNITY PROJECT SPONSORSHIP PROGRAM GRANTS
Inyo County is accepting grant applications from non-profit organizations in the county seeking funding for programs, projects or events taking place from July 1, 1012 to Nov. 12, 2012.
There is $20,000 worth of grant funding available in this cycle of Inyo County Community Project Sponsorship Program grants. Later in the fall, after the county's 2012-13 budget is finalized, it is anticipated there will be additional CPSP grant funds available for projects and events that occur during the rest of the county fiscal year (up to June 30, 2013).
Over the past five years, Inyo County CPSP grants have provided funds to county based non-profits to help sponsor events ranging from marathons to fishing derbies, contributed to projects as diverse as web page redesign and printing of promotional brochures, and paid for advertising that promotes local events and programs. The CPSP program is focused on helping local organizations promote activities and programs that bring visitors to the area, and also supports events and programs that enhance the cultural and recreational quality of life of the county's residents.
The Program Guidelines and Grant Application forms are available online at  HYPERLINK "http://www.inyocounty.us/Comm_Proj_Spon/CPSP.htm" www.inyocounty.us/Comm_Proj_Spon/CPSP.htm.
The deadline for applying for the Community Project Sponsorship Fall Grant Cycle is Thursday May 31, 2012, at. To be considered, three copies of the completed grant application, each with an original signature, must be received by the Office of the County Administrator by 5 p.m. on Thursday, May 31, 2012. No postmarks, facsimile, or electronic copies will be accepted.
If mailing, mail to: Office of the County Administrator, Attn: Community Project Sponsorship Program, P.O. Drawer N, Independence, CA 93526. If hand delivering, deliver to: Office of the County Administrator, 224 N. Edwards Street, Independence, CA, (760) 878-0292.
Grant applications deemed complete and eligible will be forwarded to a Review Panel for ranking and evaluation. The Board of Supervisors is expected to consider the Review Panel's funding recommendations and make a final decision on the specific grant awards toward the end of June, or in early July.