During the New York Marathon this year, the Town of Mammoth Lakes was often mentioned on national TV as locally trained runners put up a tremendous showing on the national stage. Now, the Town of Mammoth is about to be featured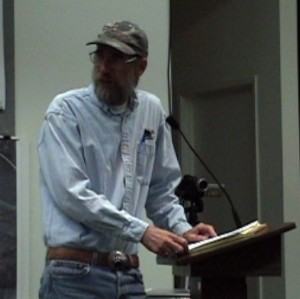 once again in the national spotlight. A two hour special entitled The Bear Whisperer is expected to air on the Animal Planet in January. It's all about Mammoth, its bears and Steve Searles.
Over the summer of 2008, a film crew came to Mammoth to follow Town Wildlife Manager Steve Searles and document his work with the local bears. Now it appears that the filming effort will be made into a two hour special on national TV.
2008 might not have been the best year to film Searles, since that was the season that the Town Council hadexperimented withpassing the wildlife program off to the non-profit Bear-With-Us. Wildlife management in Mammoth appears to be back on track now, but that was the summer that Searles tool kit was severely limited by the new role.
That was also the year that Mammoth residents found the remains of millionaire aviator Steve Fossetts plane. The same LMNO Productions film crew made it to the crash site which spawned another TV special about that high profile incident.
Past political squabbles aside, bears in Mammoth are an interesting subject to those who live here, and fascinating to the outside world as well. The film crew from LMNO Productions is bound to have captured a good story from Mammoth. According to Searles, the title of the two hour special is "The Bear Whisperer. It runs on Animal Planet starting January 7th.