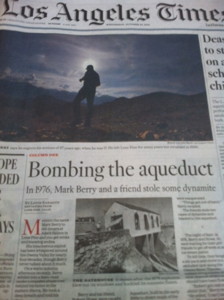 Back in 1976 when John Heston and Benett Kessler started Eastern Sierra News Service, a drought hit the Eastern Sierra and so did major political controversy over the Department of Water and Power's aggressive groundwater pumping. It was the fall of that year when two young, local men bombed the Alabama Gates, part of the LA Aqueduct. Their identities were not publicly discussed – one of them was a juvenile – and Kessler said that privately the two suspects were heralded as heroes. Wednesday, LA Times reporter Louis Sahagun revealed the whole story on the men who dynamited the aqueduct. http://www.latimes.com/local/la-me-c1-aqueduct-bomber-20131030-dto,0,7855162.htmlstory#axzz2jEiNWvzK
Sahagun sat down with Mark Berry, who decided to go public with his story. He was 17 at the time of the bombing. Reporter Sahagun wrote that Berry and his 20-year-old friend, Robert Howe, broke into an Inyo County building where they found a box of dynamite. The Times story tells how the young men were angry about how DWP was drying up the Owens Valley. That's not a new theme for the area where bombings of the aqueduct were numerous in the 20s and 30s after installation of the aqueduct in 1913, and after major diversion of streams, and the start of groundwater pumping.
The violence had stopped, but with renewed concern about the environment in 1976, the filing of an environmental lawsuit by Inyo County, and consistent news reporting about LADWP's activities, the populace grew angry.
Reporter Sahagun wrote about how the young men blew up the Alabama Gates, and how locals secretly cheered them on. The pair went through the legal system, according to the Times, with limited penalties. The story says Mark Berry moved away from the area but returned in 2000. Ironically, he now works for DWP.
Sahagun's story comes at a time when LADWP celebrates the 100th anniversary of the aqueduct. Other stories and opinion pieces are expected in the Times, including an op-ed piece by Bill Kahrl, the author of "Water and Power."