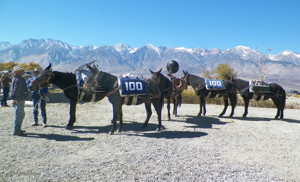 "Metabolic Studio presents the film 
One Hundred Mules Walking the Los Angeles Aqueduct, at the 
Bishop Twin Theatre 
on 

Friday, May 23, 2014 at 3:30pm

.
This one hour documentary follows this 
commemorative artist action to reconnect Los Angeles to its water supply
by walking the entire 240-mile route of the Los Angeles aqueduct with a team of 100 mules.
The action marked the 100-year anniversary of the completion of the Los Angeles aqueduct, which began bringing water from the Owens Valley 
to Los Angeles on November 5, 1913.
The screening is FREE and 
will be followed by a Q & A with the artist and wranglers."