The arrest of Joshua Braley behind Rusty's Bar in Bishop was documented by video camera and posted on YouTube with criticsm of officers who cuffed him. Now, Braley will be sentenced to jail time next month.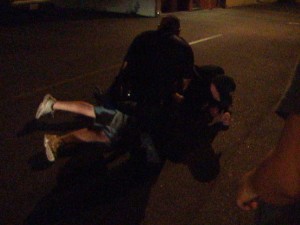 Police and Sheriff's spokesmen stood behind the officers who arrested Braley, although friends of the defendant insist that the arrest was unprovoked.
Court spokesmen now say that Braley has admitted he violated his probation by being drunk in public. We are told Braley could face a sentence of up to 1 year. The court will hand down a sentence October 10th.
According to the District Attorney's staff, Braley was on probation on three cases involving statutory rape, bad checks and vandalism at the time of his latest arrest.