As predicted, snow fell in the upper elevations over the week-end. KSRW forecaster Dennis Mattinson called for six to twelve inches in the mountains. The weather patterns delivered, with particularly dramatic results on Mammoth Mountain itself.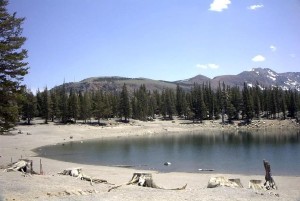 Mountains next to Mammoth showed some snowfall and so did areas of the Sierra. The weather forecast for this week shows a warming up trend with another cooling off headed our way at the end of this week into next week-end.
Photo: Courtesy, Barbara Richter, Mammoth Lakes – Horseshoe Lake area after snowfall.