Mammoth's Rick Wood grabbed attention last Wednesday night when he read a statement to the Town Council. A statement that called the Council's hand on financial troubles, and he accused local government of trying to "privately manage a developing scandal in your own police department."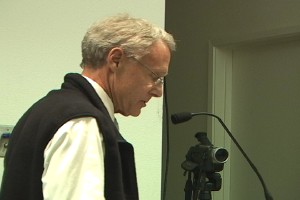 What did he mean by that? A few days after the meeting, Wood said that "there is nothing more that I'm prepared to say."
Wood's statement to the Council said, "This government is attempting to privately manage a developing scandal in your own police department whose details are commonly known on the street and which will likely soon spill onto the front pages of our media. I submit to you that this council and your staff have an obligation to make transparent those things which are going on inside of government."
When asked for his response to this statement, Mammoth Police Chief Randy Schienele said, "I don't have the foggiest idea what he means. I talked to Rob Clark," said Schienle, "and he has no clue." Chief Schienle said Mike Grossblatt and Councilman Skip Harvey also have no clue. "Nobody has any idea what he means," said Schienle.
It was in September that the Town did investigate a complaint about Schienle for indirect involvement in a domestic dispute that resulted in the arrest of a local man. Officials said allegations against Schienle were unfounded, and the Chief denied any wrongdoing.
The most recent events involving the police department pointed to the fights over bear management with police officers sharply pitted against town councilmen over the hiring of Steve Searles.